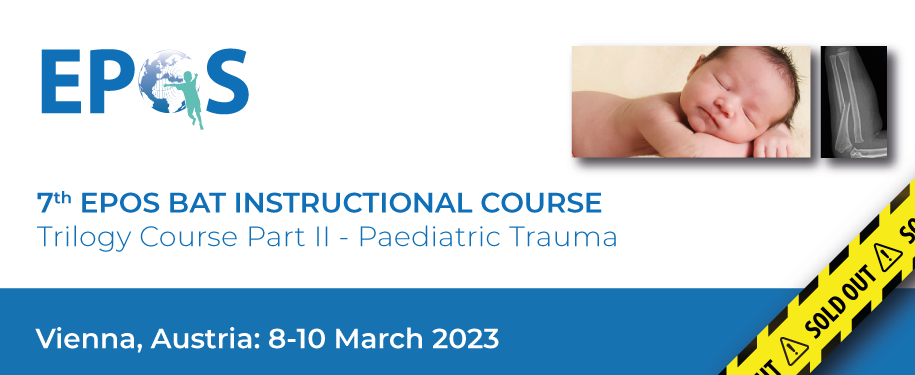 Certificates & E-survey:
Once the course is over, you will find your attendance & CME certificates as well as the e-evaluation survey on the EPOS registration system: https://otcommunity.m-anage.com/Home/Index/Event/march2023/en-GB Please note that you are able to download your CME Certificate only after you have completed the e-survey.
EPOS BAT IC Trilogy Part 2 course
Dates: 8-10 March 2023 (Please note the updated dates!)
Scientific Programme: PDF Document | 10 pages (Web version), PDF Document | 10 pages (Print version)
Case Presentation Instructions: PDF Document | 1 pages
Description: The course is aimed at residents who want to improve their knowledge in Children's Orthopaedics and also general Orthopaedic Surgeons, particularly young ones, who want to refresh their knowledge. The scientific content should encourage a greater understanding of Children's Orthopaedics via a problem-solving approach to the diagnosis and management of orthopaedic conditions in children informed by relevant research evidence.Teaching faculties are composed of internationally recognized experts in Children's Orthopaedics from all over Europe.
CME accreditation:16 European CME credits (ECMEC®s) have been accredited for the course. Please note that each medical specialist should claim only those credits that he/she actually spent in the educational activity.
Venue: Orthopaedic Hospital Speising, Vienna (Austria)
Registration: The course is sold out with 150 participants. If you are interested in participating this course but do not have a seat, please send an email to courses@epos.org and we will add you in the waiting list. In case we get any last-minute cancellations, we will inform you about it.
Course dinner: For the registered participants: If you would like to participate in the course dinner but do not have a ticket yet, you may purchase one via the course registration platform https://otcommunity.m-anage.com/Home/Index/Event/march2023/en-GB Please note that it is not possible to buy tickets onsite during the course for the dinner.
Course fees (incl. 10% Austrian VAT)**:
Early registration*: (valid until Sunday 19th of February)

Participants EUR 500.00
EPOS members** EUR 400.00
Residents** EUR 350.00
Late registration fees: (valid as of Monday 20th of February) Please note: No onsite registration possibility.
Participants EUR 550.00
EPOS members** EUR 450.00
Residents** EUR 400.00
Course dinner***: EUR 40.00
*The early registration fee is only when the payment is made before the early registration deadline
** Proof of status mandatory
***Course Dinner: Will be held on Wednesday 8th of March at 20h00.
Interested participants may buy a ticket via the course registration platform.

Registration fees include:
• Participation to all course educational activities
• Lunches & Coffee breaks
Expenses related to flights, accommodation, airport transfers, dinners etc. are at the participants' own expense.
For any further inquiries concerning the course, please do not hesitate to contact us via courses@epos.org