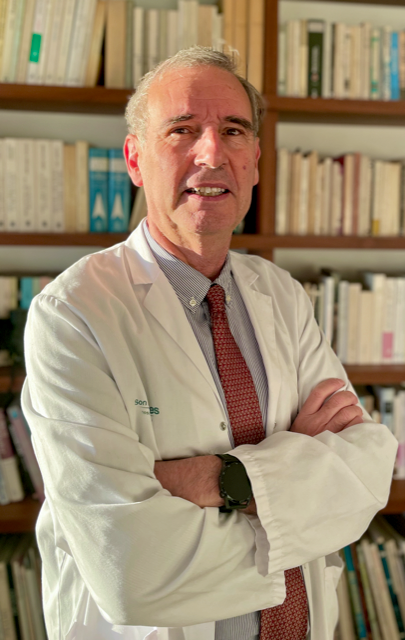 Dear EPOS members,
It is for me an honour and a huge responsibility to take over as a President of our society.
After a pandemic that has changed our lives dramatically and resulted firstly, in the first ever cancellation of an Annual Meeting, and secondly in the first Annual Meeting held in a virtual manner, we finally managed to get back together in Copenhagen, with a face-to-face Annual Meeting that was greatly successful. With over 600 registered attendees and 138 speaking sessions, 27 study group presentations, and 85 e-posters, we have a lot to celebrate and show how alive and vigorous our society still is.
The success of these last days has been possible thanks to the tireless efforts of many members of our society. Especially the members of the executive committee, who with tenacity have overcome multiple difficulties. A special thanks to our presidents during this tough period - Thomas Wirth and Antonio Andreacchio. With their courage and vision, they have made possible, not only the survival of our society, but its lively looks.
The satisfaction for our achievements throughout the pandemic is logical, but we are far from sailing in safe waters. Europe forecasts difficult times ahead due to external circumstances such as the conflict in Ukraine. A reminder that EPOS as a Society will never condemn people because of their origins but stand together against conflict.
Global warming is another great challenge of ours. Our planet is also fading away. As a children's society we cannot renounce the obligation of leaving a better planet to the generations ahead. We should look to reinforce more e-learning, avoid unnecessary travel, and encourage the use of public transport. We should also look to introduce green policies in our meetings and minimise packaging and single use instruments in operating theatres.
Above all, as a scientific Society our role should be to reinforce education as the cornerstone of our policies. Although a lot has been done in recent years in this area there is still a long way to go. Our efforts during the next years will be directed towards a training pathway for orthopaedic surgeons who want to direct their careers towards children care. We want to enforce a European program that guarantees the education of our newcomers, allowing more and better opportunities for proper training.
Finally, there are growing concerns around the difficulties that many attendees are experiencing in obtaining acceptance of their scientific works. As a scientific Society the laydown of restrictive policies to favour our representatives is short-sighted. We should work hard to raise our standards making our members more competitive. We propose the launch of programs to help improve the level of our communication skills, and at the same time the implementation of policies towards more critical and unified methods of assessment for the work presented at our meetings.
I am delighted to continue the work started by others to keep improving our beloved society. On behalf of our Executive Committee and its President, we promise to work hard, and enthusiastically, to make this society a place where all the Paediatric Orthopaedics surgeons of Europe can feel themselves proudly represented.
Sincerely,
Ignacio Sanpera
EPOS President 2022-2023